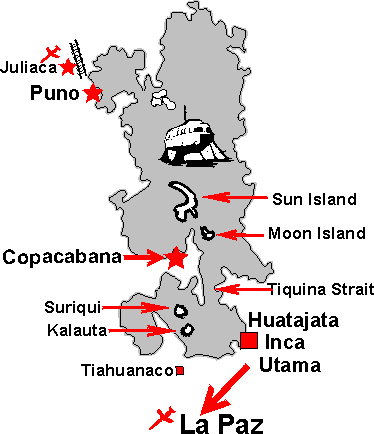 Nearby, on the Bolivian side of the lake, arose the population and ceremonial center of Tiahuanaco, capital of one of the most important civilizations of South America. Tiahuanaco ceremonial sites were built along the lake's shores, indicating that the lake was considered sacred at least 2,000 years ago.

Excavations have uncovered the remains of five civilizations, one on top of the other, the last one ending a hundred years before the first Inca. Tiahuanaco was a pilgrimage site for the Incas.

At the time of the Spanish Conquest, one of the most important religious sites of the Inca Empire was located on the Island of the Sun. Titicaca was perceived by its ancient cultures to be an inland sea connected to the ocean, mother of all waters.

Today, people still believe that the lake is involved in bringing rain and that, closely associated with the mountain deities, it distributes water sent by them. The people who utilize the lake's resources still make offerings to her, to ensure sufficient totora reeds for boats, for successful fishing, for safe passage across its waters and for a mild climate.