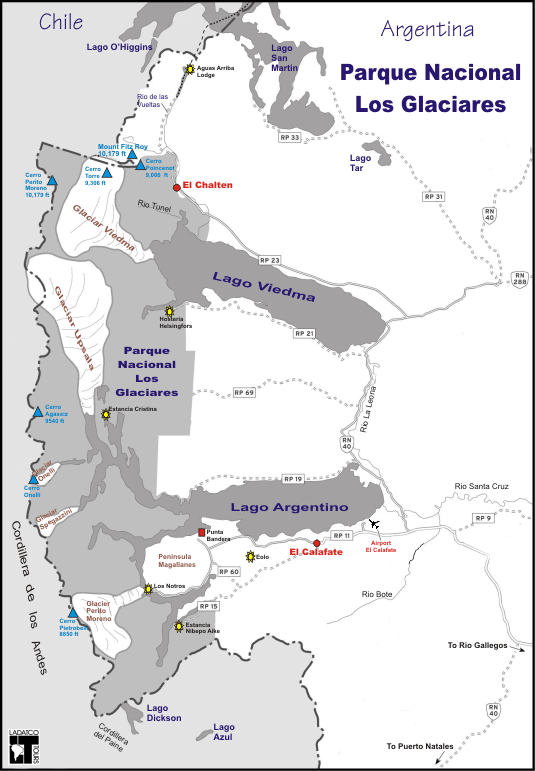 Lago Argentino is the traditional title used, though the actual town is El Calafate (pop 3,000), on the south shores of Lago Argentino and in the southern part of the Parque Nacional Los Glaciares. Click here for PDF of the map
El Calafate is a booming tourist center during the season, and a sleepy closed-up town the remainder of the year. The one main street has a growing number of shops with the usual array of t-shirts and gear, and restaurants; most of the hotels are an easy walk to the center.
The "must do's" are:
The Glaciarium, a one-of-a-kind and the first Centre and Museum dedicated to Ice and Glaciers, a place to visit to understand this natural-phenomena-in depth. A modern space, designed to entertain and educate; full of audiovisual stimuli. It enables visitors to discover the wonderful world of glaciers and supplement their knowledge and enjoyment of any trip to Patagonia. It is a perfect introduction before visiting Los Glaciares National Park, or even answering questions after. The attractions: models, dioramas, photographs, screens, and other interactive presentations are housed within two halls. And enjoy a drink in their Ice Bar!


The famed Perito Moreno Glacier is a drive of about 2 hours from Lago Argentino over well maintained all weather roads with a photographic, educational and wildlife stop here and there along the way. Perito Moreno Glacier has a frontage of more than 3 miles, towering some 180 feet above the lake waters. Thunderous booms are common as huge chunks break off and fall into the lake. A series of "pasarellas" (boardwalks) with strategically placed viewing points lets you explore the area at your own pace.
There is also a short distance, one hour motorlaunch excursion along the southern face, providing difference views of the ice walls. There is a snack bar with restrooms and a restaurant nearby the at the "pasarellas". Most day tours drop you at the "pasarellas" and allow you three to four hours to explore at your own pace - barely enough time to take the motorlaunch excursion and walk the pasarellas.


Estancia Cristina & Upsala Glacier excursion - this full day excursion includes a motorlaunch excursion on Lago Argentino to view the Upsala Glacier from the water, and then a visit historic Estancia Cristina, founded in 1918. Visit the estancia, have lunch and take special transport to a "mirador" for panoramic vistas of Upsala Glacier, considered on of the longest glaciers in South America. Have tea and afternoon return cruise to Punta Bandera. Or for the active there is a special hike or horseback riding available. This excursion combines scenery, glaciers, estancias and history.
The Estancia inaugurated its main lodge and 12 rooms located in three bungalows, affording overnight stays to those who wish to hike and horseback ride and enjoy this remote part of the world.