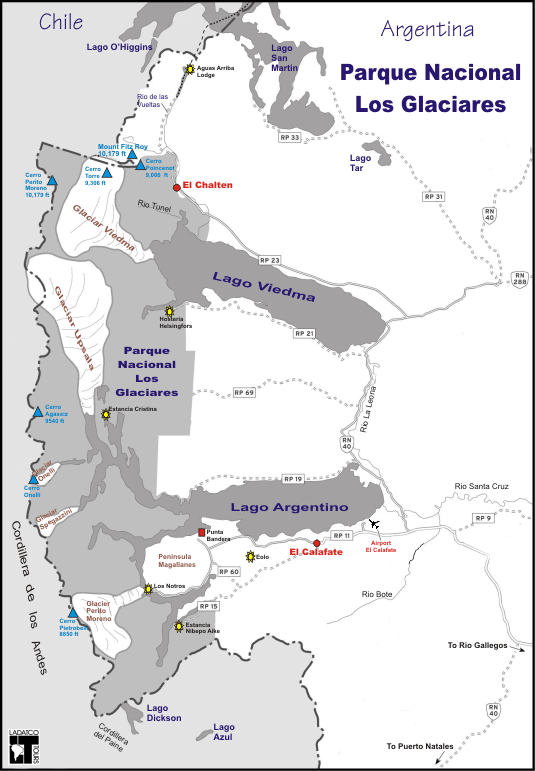 PARQUE NACIONAL LOS GLACIARES
The park is the second largest in Argentina, extending some 170 km along the Chilean frontier and covering some 759,000 hectares. It was declared a World Heritage region by UNESCO in 1987. Some 40% of the park is covered by giant ice fields, with 47 major glaciers of which 13 flow east descending into the park to feed the two big lakes, Lake Viedma in the north and Lago Argentino in the south. There are also about 190 smaller glaciers that are not connected to the ice fields.
Just east of the ice fields are areas of southern beech forest and further east still the Patagonia steppe with shrub vegetation. There are over a hundred species of birds inhabiting the forest and steppe.
The best time to visit the park is between October and March. While the visiting season is being extended each year by touristic demand, September still represents a sleepy opening and Easter seems to be the magical date for closing up.
Getting between the south and the north is an experience in itself. While only 134 miles north and west, it takes about 4 hours over the "all weather roads". Unless you are experienced with driving on gravel and dirt roads and have some basic knowledge about the workings and maintenance of a vehicle, it is best to not to drive yourself. Between El Chalten and El Calafate there is one (1) "refreshment" stop, and since there is not much traffic, it is all the more important to have sufficient gas and the where-withal to handle problems that might arise.
---
The Parque Nacional Los Glaciares is divided by the glories of nature into two parts:
The northern part, with El Chalten at the entrance to the park but because there are no airports any where nearby, El Calafate is the gateway, though it takes 4 hours over "all weather" roads to get there. The main highlight are splendid vistas and panoramas of Cerro Fitz Roy and tri-pinnacled Cerro Torre, great hikes & climbing and a true undiscovered atmosphere.


The southern part, with El Calafate on Lago Argentino the gateway. The main highlights are Perito Moreno Glacier, motor launch excursion to Upsala, Onelli, Spegazinni glaciers and the cute town itself. There are also several estancias that host guests, including one "Relais & Chateaux" member.